Halls & Facilities
---
With a total size of 5,100 square meters, our multi-purpose hall is efficient to accommodate up to 3,000 standing guests and 2,400 in round table seating arrangement. The hall can be divided into three smaller halls, with an optimum sound proof system so it can accommodate different functions at the same time.
Our banquet hall is adorned with a fusion of contemporary and Islamic designs that are reflected on the patterns used on the ceiling, walls, floors and even doors – making it a perfect venue for all kinds of themed events. The classic simple interior of the hall makes it the seamless venue for a mixture of wedding and MICE events. It has also been designed to allow event designers to prep it for transformational settings, all whilst providing a rich fit-out that would still gleam if used as is with no additions.
Victor Hugo once said "To love beauty is to see light", and when it comes to light, JRCC has mastered it. Our A-team of technical engineers are trained to operate a top-of-the-line imbedded intelligent lighting system that uses the latest LED technology. The system specializes in producing unlimited hues, perfectly controllable wash lighting, RGB colour mixing and adjustable strobe effects. The subtle-looking fixtures will also ensure no distractions are visible on your events' ceiling, and a perfect color-changing ambience that can dress up your event with a million shades ensuring entertainment and amusement.
Foyers
Al Jawaher Reception & Convention Centre presents Aqeeq & Fairouz, its mirrored foyers that are elegantly arranged with distinguished interior design and furniture, assuring an extravagant reception of your guests before arriving at the halls. Aqeeq & Fairouz, which are both named after 2 of the most striking precious stones, are outfitted with an advanced lighting system, mobile partitions and reception desks, making them ideal for cocktail receptions and pre-function gatherings. Each Lounge can host up to 100 guests, between seated and standing.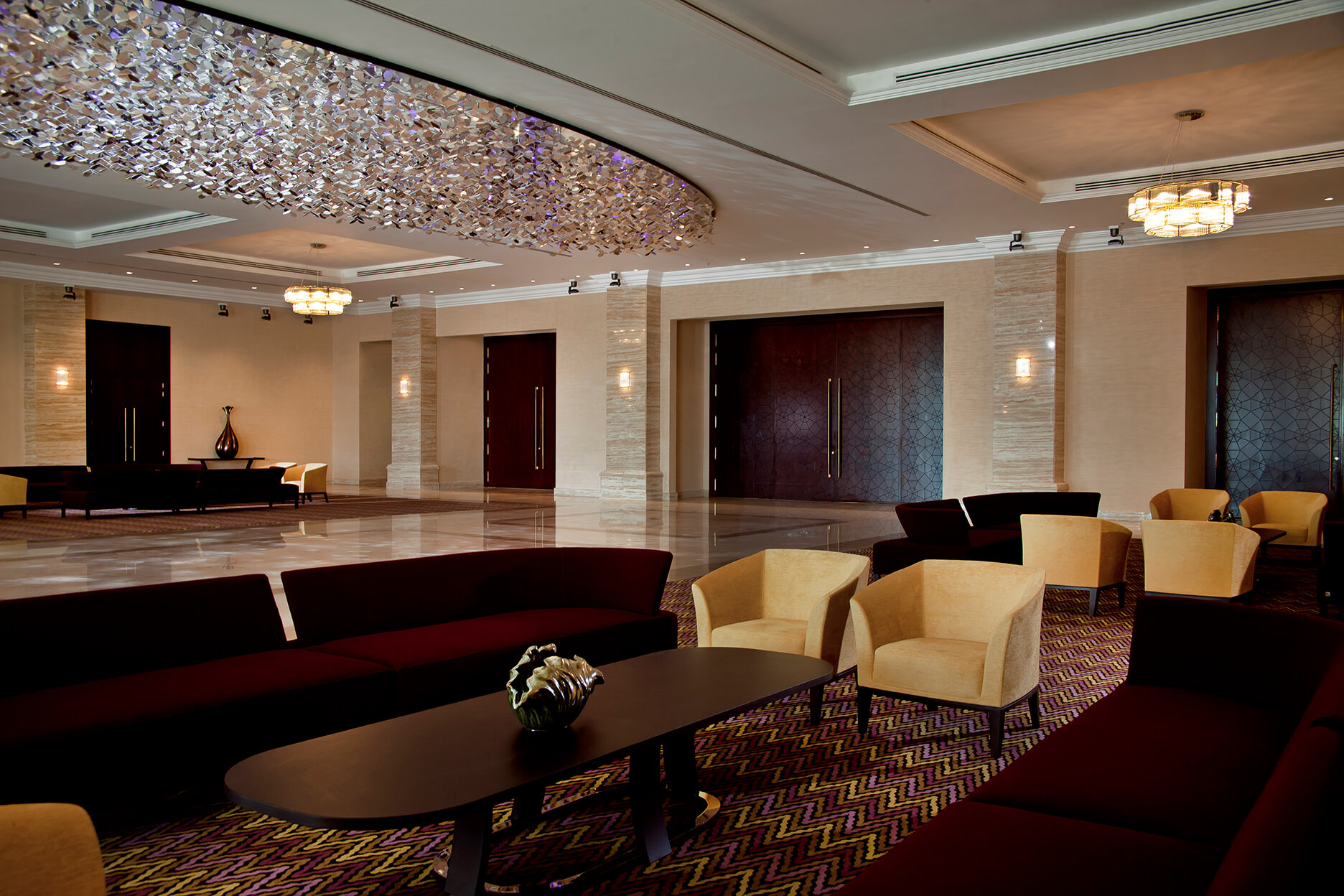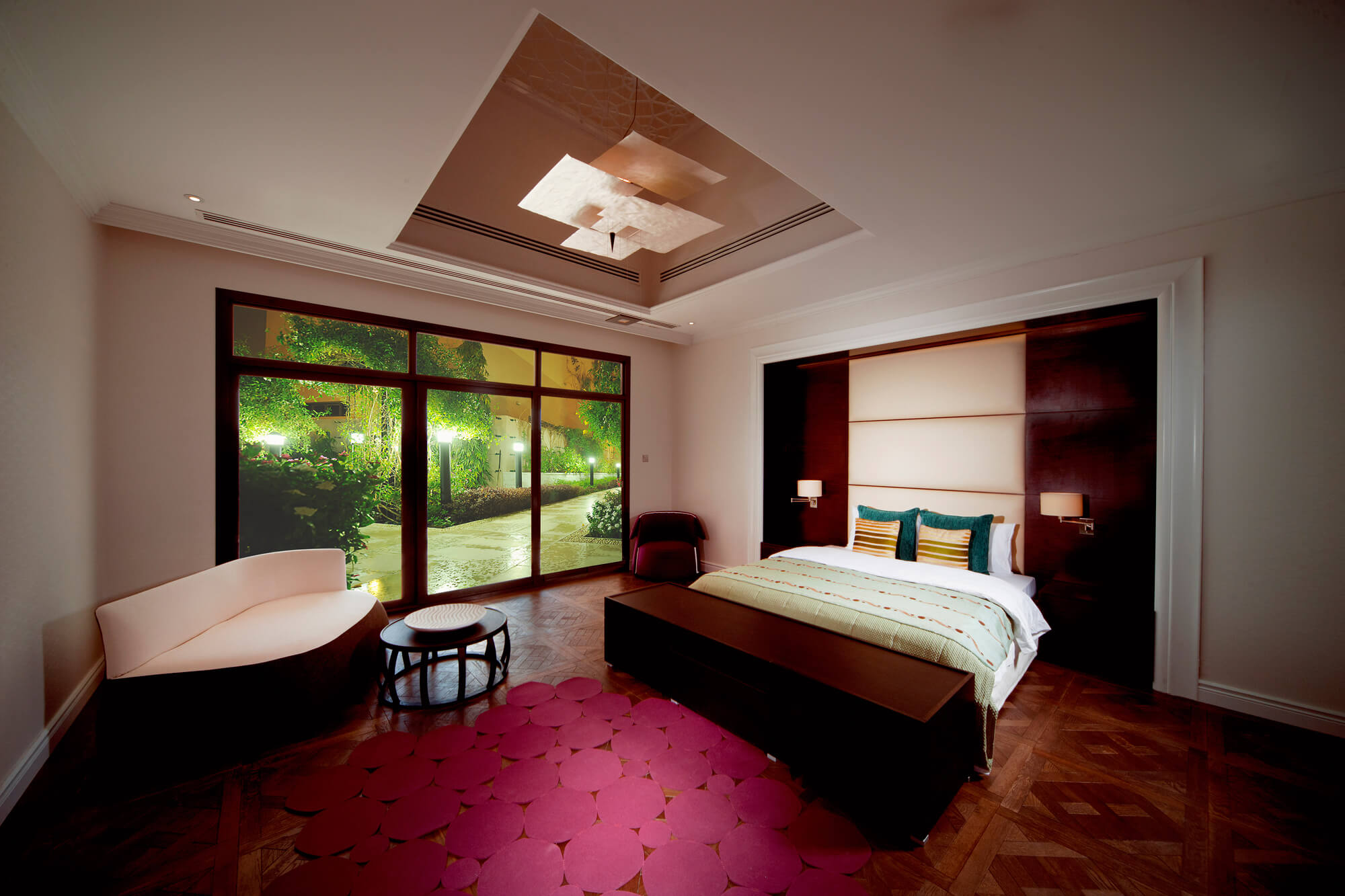 Bridal Suites
Asdaf and Durrah are every bride's dream. The hall's two spacious VIP Bridal Suites are beautifully arranged with a living room, bedroom, powder room and changing room; overlooking a spectacular private garden. The facilities ensure adequate storage and display places for all the bride's needs, with a spacious well-lit make-up working station, and enough room for a photographer's backdrops and props. A full-time attendant, room service, and private parking and access will ensure an isolated quiet haven necessary for the preparations of the big day. The suite is booked as part of the wedding package, while an additional one can be provided for special guests via renting.
Majleses
Al Jawaher Reception & Convention Centre provides two private Majleses – Lazord & Zabarjad. Each can take up to 30 guests, perfect for small and intimate gatherings and celebrations, or for a pre-event waiting area of guests of honor. Both have separate car port access exclusively for the guests, therefore, ensuring privacy and protocol ease of implementation.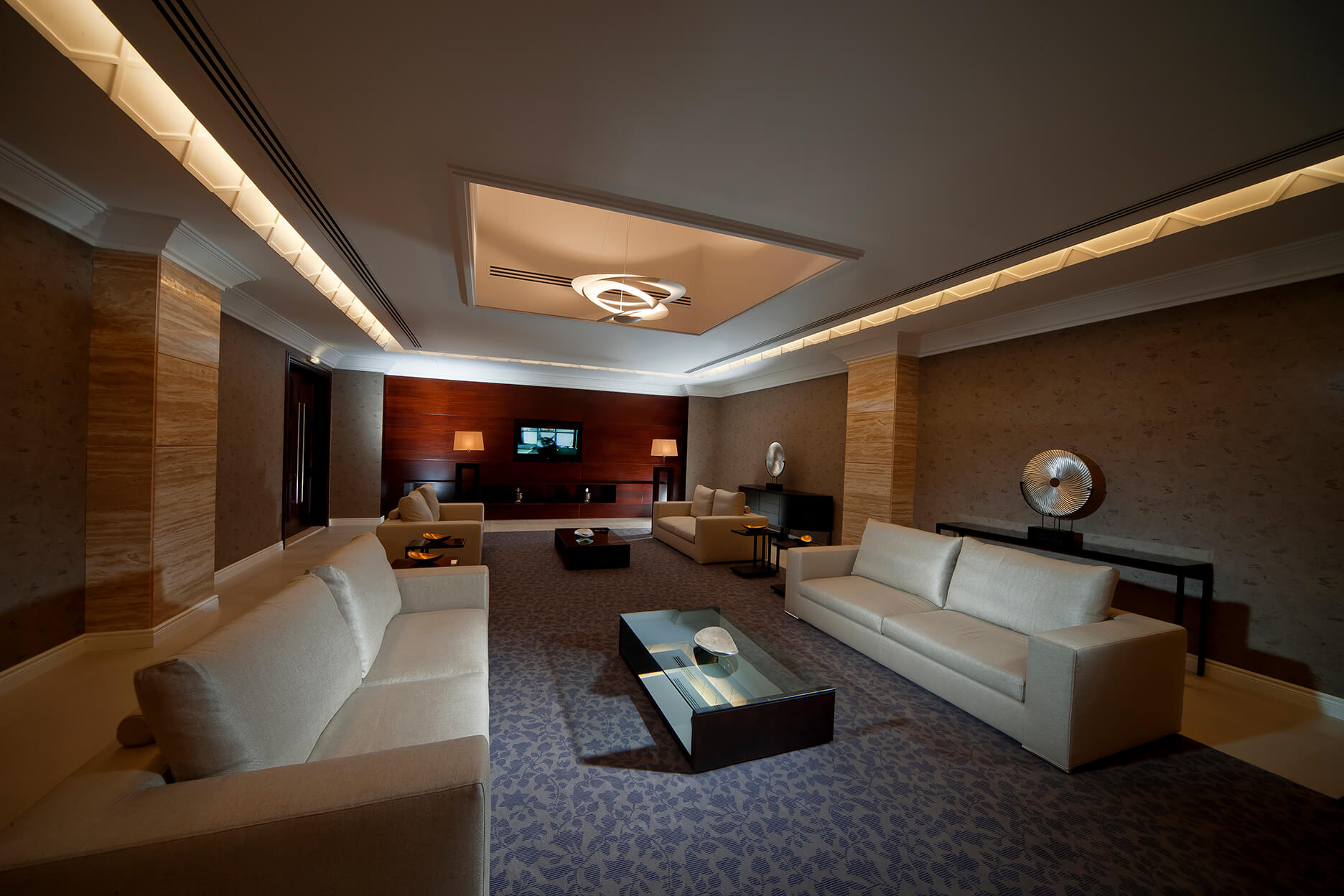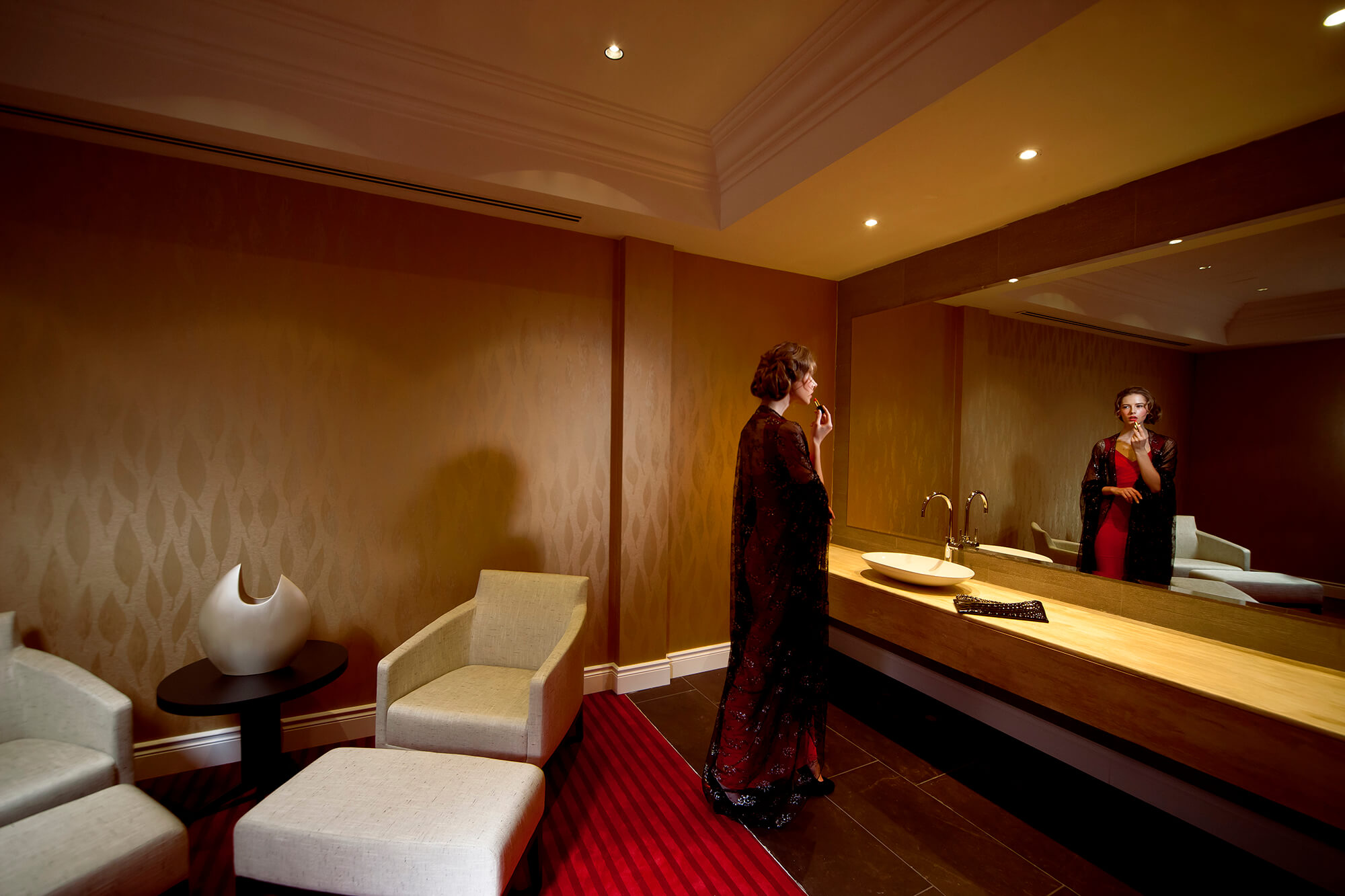 Powder Rooms
These are contemporary designed vanity rooms for both men and women, located in both entrance foyers that can be used for a quick touch-up during functions.
Prayer Rooms
Located in Aqeeq and Fairouz Foyers, our Prayer Rooms offer Muslims a private contemplation space for both men and women separately, and they're attached with facilities to perform ritual ablutions.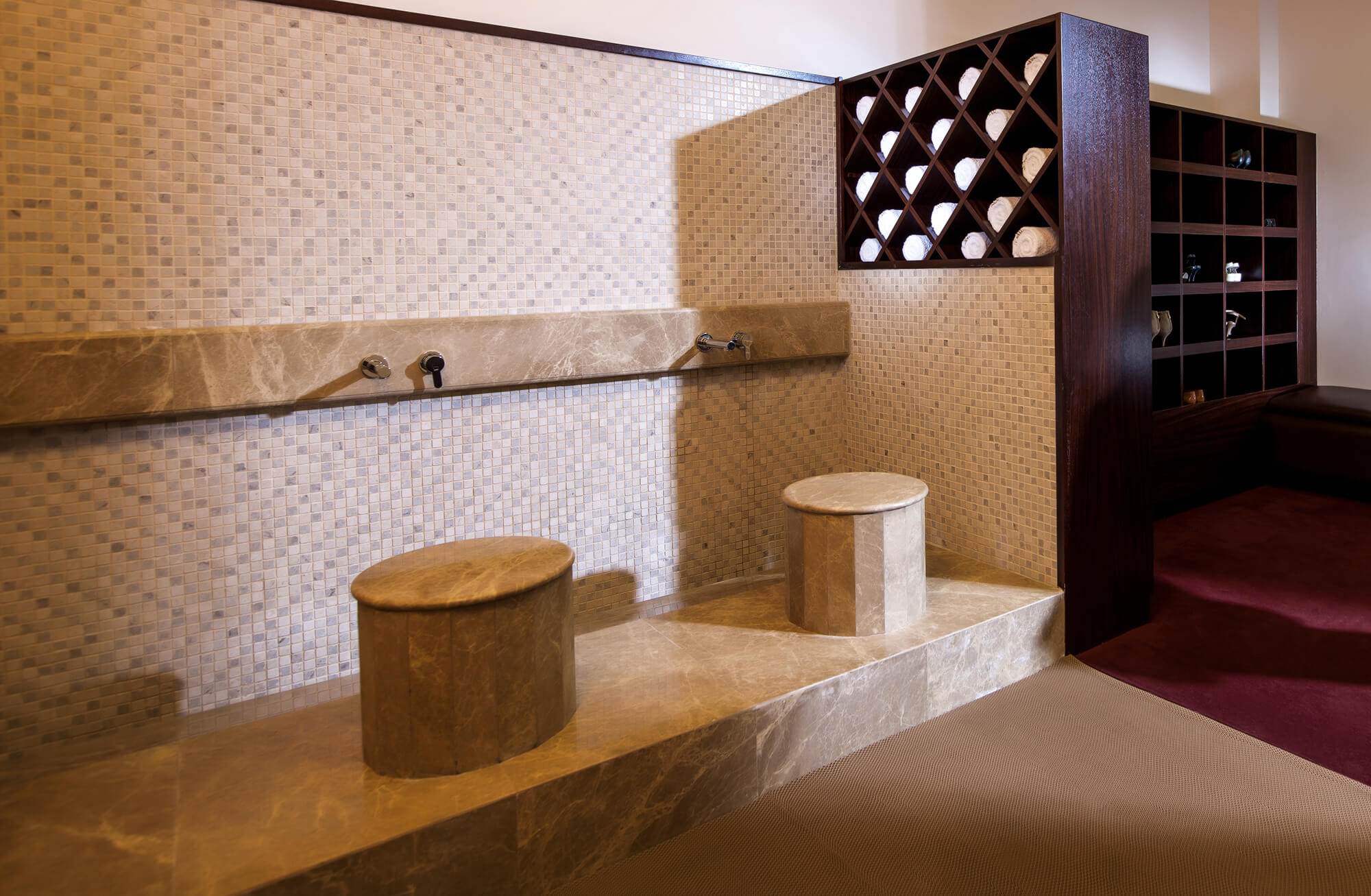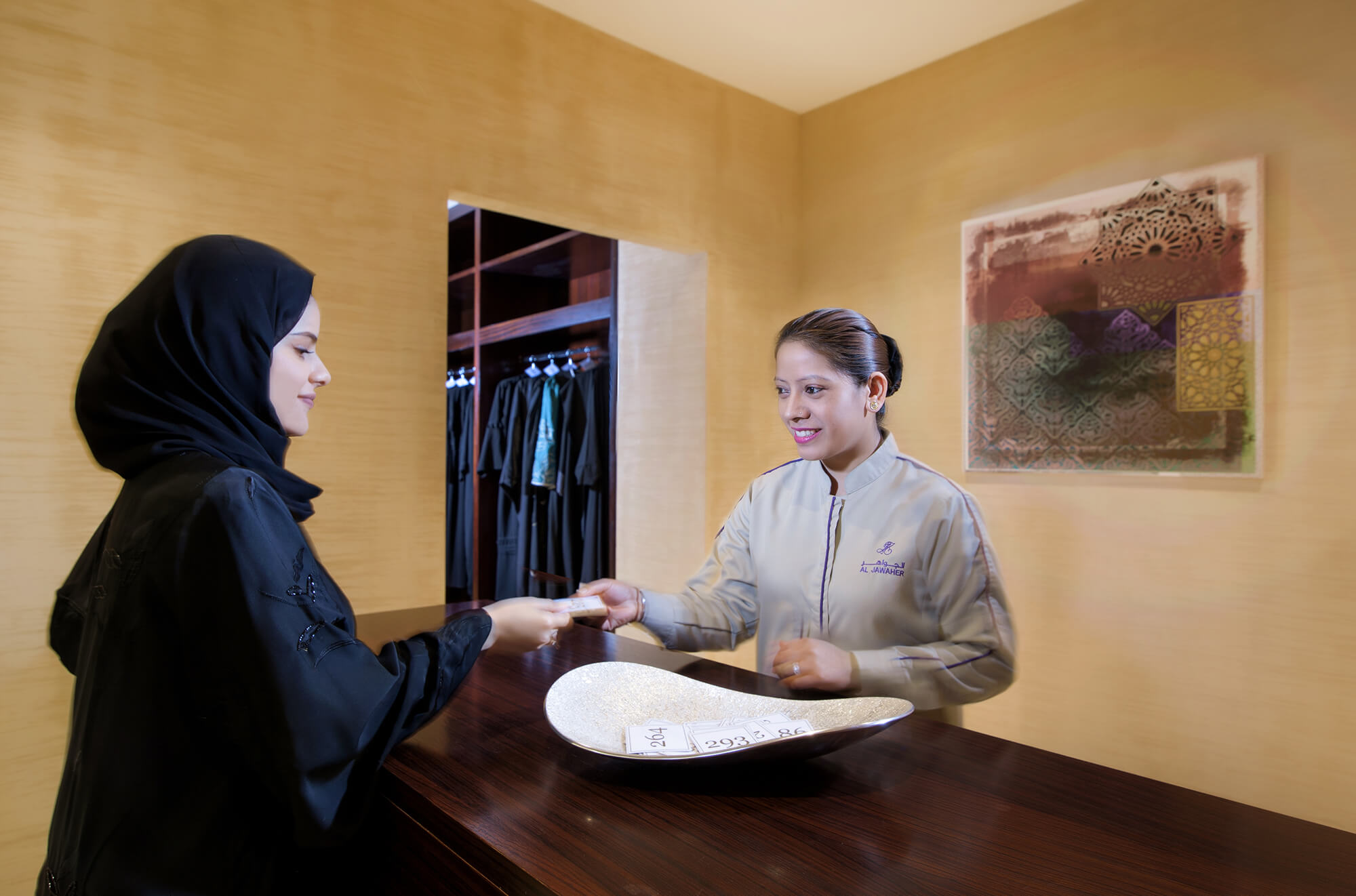 Cloak Rooms
No more folded Abayas or jackets to share your chair during an event. Our Cloak Rooms located in both entrance foyers are particularly organized and outfitted with garment racks and proper height perfect for long cloaks and accessorized with special hangers suitable for very delicate materials. The accessible rooms are completely secured and are at all times manned by our own trusted staff, ensuring no mix-up and no lost pieces at any cost.
Floor Plan
---